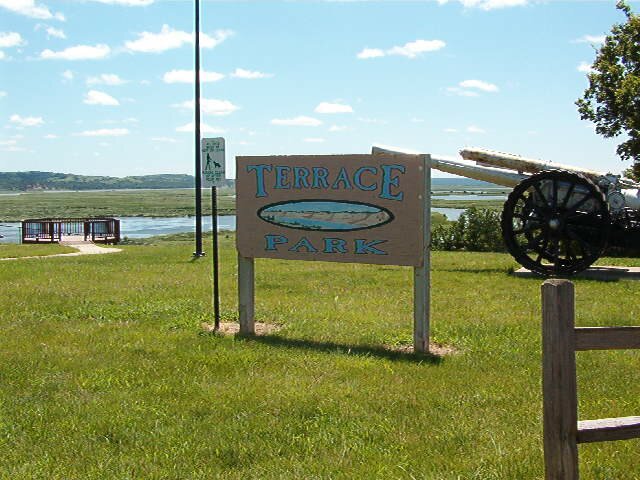 Have a picnic underneath the shelter with an awesome view of the Missouri River

Terrace Park sits atop a high bluff overlooking Lewis and Clark Lake of the Missouri River. The City of Springfield has undertaken an extensive project at the park with the assistance of grants from the National Park Service and Randall Resource Conservation and Development.

The park allows those following the Lewis and Clark Trail an opportunity to explore nature and view the Mighty Mo from a picturesque spot. The expedition journals provide us with numerous accounts of plants, wildlife and scenery. Several times the corps members described the plums found in southeastern and central South Dakota.

Part of the park plan is the development of American Plum, a native shrub to the area. Considerable use is made of American plum thickets for nesting by birds and for providing protection to small animals. American Indians utilized the fruits for food, either fresh, cooked or dried.

Visitors to Terrace Park will see a Lewis and Clark informational kiosk. Springfield chose to participate in the South Dakota L&C Community Project which features panels with info unique to each of at least 10 communities along the river.

Signs also are planned to describe the native forbs and plants scheduled for the park. Much of this vegetation was a part of the American Indian's daily life. The Corps also took much time in documenting their outdoor discoveries. Terrace Park is designed to promote those educational and historic aspects of the expedition and the area.

We enthusiastically encourage visitors to enjoy the outdoors at Springfield. Local restaurants are willing to cater meals for group tours wishing to dine in the outdoors. They also have the seating capacity and buffet-style presentation to serve in-house.
The morning was cold, and the wind from the northwest. We passed at sunrise, three large sandbars, and at the distance of ten miles reached a small creek, about twelve yards wide, coming in from the north, above a white bluff: this creek has obtained the name of Plum creek, from the number of that fruit which are in the neighborhood, and of a delightful quality. …" (Journal of the Lewis and Clark Expedition, Sept. 3, 1804)